Dr. Dennis W. Whitford has a doctorate of chiropractic degree (D.C.) from Logan College of Chiropractic in St. Louis, Missouri. He is certified in chiropractic pediatrics with the title of F.I.C.P.A. from the International Chiropractic Pediatric Association. This is a one year post-doctoral certification completion of chiropractic health training and examination for pregnant women and children of all ages.


He is President of the Michigan Association of Chiropractors. He has been an active member since beginning practice in 1993. He has been honored with many awards in leadership and distinguished service by his peers in the M.A.C. who's mission is "To improve the health and well being of the public by advancing, promoting and protecting the practice of Chiropractic." He is a trainer for mid-Michigan for the Association`s Work Safe program. This program is sponsored by the state of Michigan for small industries to help educate and challenge employees to have a safer working environment. He has trained hundreds of workers helping prevent injuries.


He is also an active member of the Mt. Pleasant Rotary Club. He regularly teaches and lectures to area organizations, clubs and students on chiropractic health care. Many students have followed his lead to enter into the chiropractic profession in the last 20 years including his daughter Ashley who practices in Florida.


He lives in rural Isabella County with his wife Sally, who is also his Office Manager and his son Nathan an Honors student at Cooley Law School.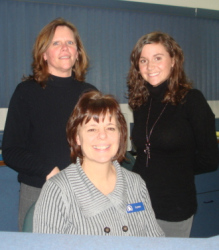 LYNN THERING
Hi! My name is Lynn Thering. I am a chiropractic assistant here at Whitford Chiropractic Clinic. You will find me usually at the front desk assisting patients and scheduling appointments. I enjoy being a part of our Chiropractic team! It has been very rewarding to see the benefits chiropractic has brought to others as well as myself and my family. I am a firm believer that "Chiropractic Works"!
SALLY WHITFORD
My name is Sally Whitford. I am the business manager at Whitford Chiropractic. I suffered from severe migraines all through high school with Tylenol providing little relief. When Dr Whitford started attending chiropractic school I, like many others, was skeptical to try chiropractic at first, but I started receiving adjustments and the headache frequency gradually decreased. Now I have not had a severe migraine in years. When I feel the tension and tightness in my neck I get an adjustment as quickly as I can. I have not taken Tylenol in over ten years for the migraines and am a firm believer that there are other options available to those who suffer from a multiple of symptoms. Chiropractic allows the body to heal itself naturally without drugs or surgery!


I received my accounting degree from Indiana State University and worked in public accounting for several years before becoming full time at Whitford Chiropractic. I handle all the billing, insurance, and family plans. If you have questions regarding your insurance coverage please give me a call and I can help you find out what your coverages are and what would be the most cost effective options available to you and your family.
Whitford Chiropractic Clinic provides only the highest quality of chiropractic natural health care. The office is located at 625 N. Main St. next to the Post Office in Mt. Pleasant.